Reading Time:
3
minutes
The Government Of Pakistan Has Announced To Celebrate 12 Rabi-ul-Awal
The government of Pakistan has announced to celebrate 12 Rabi-ul-Awal at the official level this time. As soon as the moon of the holy month of 12 Rabi-ul-Awal appeared, Federal Minister for Information and Broadcasting Fawad Chaudhry said in a press conference that this time Prime Minister Imran Khan Has decided to celebrate 12th Rabi-ul-Awal at the official level.
And the first decade of this holy month has been declared as the 10th of Rehmat-ul-Ulameen. He further said that this time on 12th Rabi-ul-Awal the federal capital Islamabad would be well decorated. Also at the same time all the provincial governments would be obliged to decorate the capitals of their respective provinces with beautiful lights. He also appealed to them to take part in it and decorate their houses, palaces and mosques.
The Federal Minister had mentioned in his press conference a good news which will be announced by the Prime Minister himself. Which was eagerly awaited by the people and finally that day has come.
On October 3, Prime Minister Imran Khan, while addressing the 10th Rehmat-ul-Ulameen ceremony. He said that he was going to form a Rehmat-ul-Ulameen authority, of which he would be the executive and the chairman of the authority would be a religious scholar on Islam. Extensive research and study and more so that all the greats of jurisprudence have confidence in them.
He added that the main purpose of establishing this authority is to inform the West about Islam and the teachings of our beloved Prophet Muhammad (peace be upon him) because they do not realize that a Muslim How much he loves Muhammad (peace and blessings of Allah be upon him) whom these people sometimes sketch and sometimes make fun of in some way.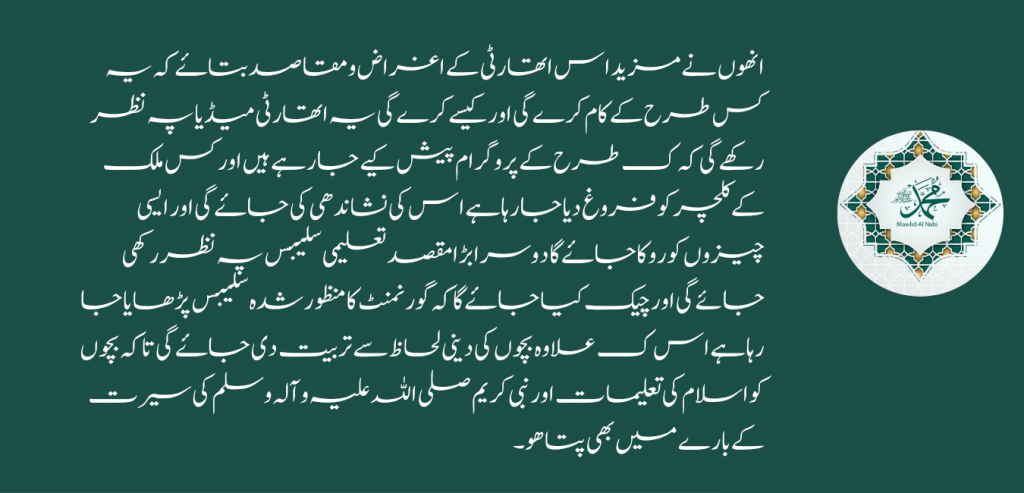 He further explained the aims and objectives of the authority. How it will work and how it will function. The authority will monitor the media, what kind of programs are being offered and which country's culture is being promoted. This will be pointed out and such things will be prevented. The second major objective will be to monitor the educational syllabus and check that the government approved syllabus is being taught. In addition, the children will be given religious training so that the children. Also know about the teachings of Islam and the biography of the Holy Prophet (PBUH).