Reading Time:
7
minutes
China's Digital Silk Road Project
CPEC is not only a road and regional transport project. It is also the name of Pakistan's technology revolution. Pakistan which is considered to be lagging behind in terms of technology. In a few years it can become so modern. The CPEC Digital Only Road project or China's Digital Silk Road Project gives Pakistan the fastest digitized access from Central Asia to Europe and Latin America. And creates a revolution in Pakistan's IT industry.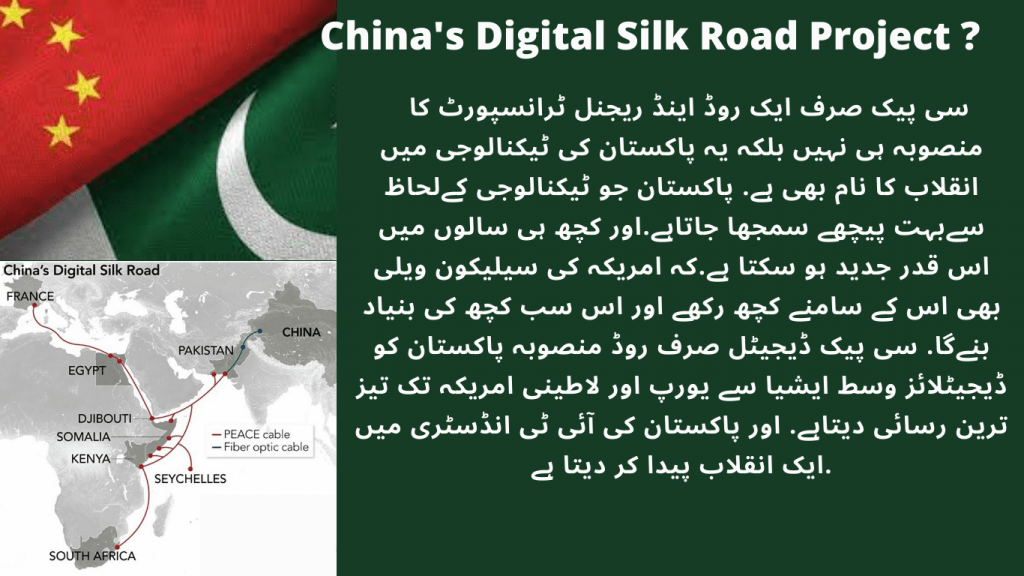 What is China's Digital Silk Road Project ?

China's Belt and Road Initiative is one of the most important and inspiring global infrastructure programs of our time. Pakistan is set to become the largest country to benefit from the Belt and Road system. Because it is important for China and gives China a route from Asia to Europe. This route will connect 86% of the world's population and turn it into an incredible commercial and industrial hub. But in this modern age, a digital revolution is essential for trade and industrial development. And for that, China will lay a fiber optical cable over this entire road through the sea called the Digital Silk Road project. Digital Silk Road is the name of a new submarine cable station. This is the modern generation cable network. Which will provide telephone internet multimedia and various broadband data transmission facilities.
What is the purpose of Digital Silk Road project?

The project aims to strengthen Internet infrastructure in Asia and the Middle East, Europe and the Belt and Road countries of Africa and Latin America. Further expand space cooperation. Improving the quality of shared technology and improving the performance of the Internet system in every way. Including 5G.
This digital Silk Road will start from Kanjrab area of ​​Pakistan and will go from Gwadar to Karachi. And so the whole of Pakistan will complete.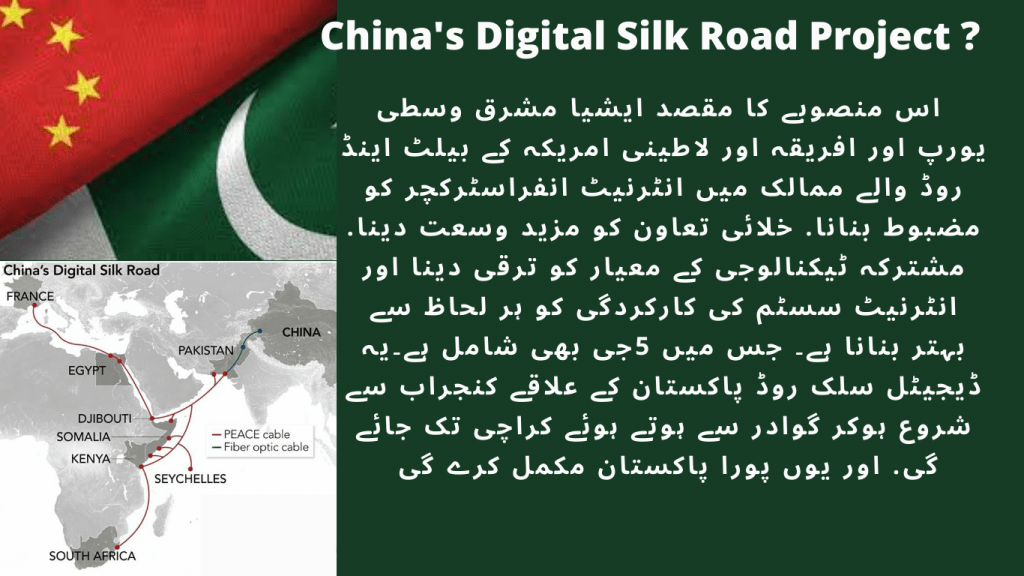 Why Digital Silk Road project important for Pakistan?
What can an ordinary Pakistani get out of it?

China plans a new satellite navigation system to control the world from space. To save GPS and optical cable in the seas. Secure its digital and global positioning systems in Pakistan and around the world under CPEC. By the time it was unveiled to the world on December 28, 2011, China had completed 50 percent of the work on the Baidu satellite. At the first Belt and Road Forum in 2017, Chinese President Xi Jinping said. All world data would be integrated into a project called Belt and Road. It will be brought to the world stage as the 21st century digital Silk Road, in which all countries will be connected by laying optical fiber cable by sea. The project is nearing completion in a few years.
What is the benefit of this digital service to Pakistan?

It is Pakistan that connects the East with the West, meaning it is the main point of the digital road. In other words, we have Pakistan at the system controlling point. Remember, you hear that India has hacked our website or hacked our server. So the main reason for this is that our country's internet comes through submarine cable India. That is why they keep attacking our servers. At present Pakistan is connected to the international submarine cable to get internet. It travels from Western Europe to the Middle East via Southeast Asia to Pakistan. That is the way India falls. And India gets a chance to cyber attack on our system. Pakistan was connected to this submarine cable in 2005. But now this is China's new fiber optical project starting from China to Europe via Pakistan.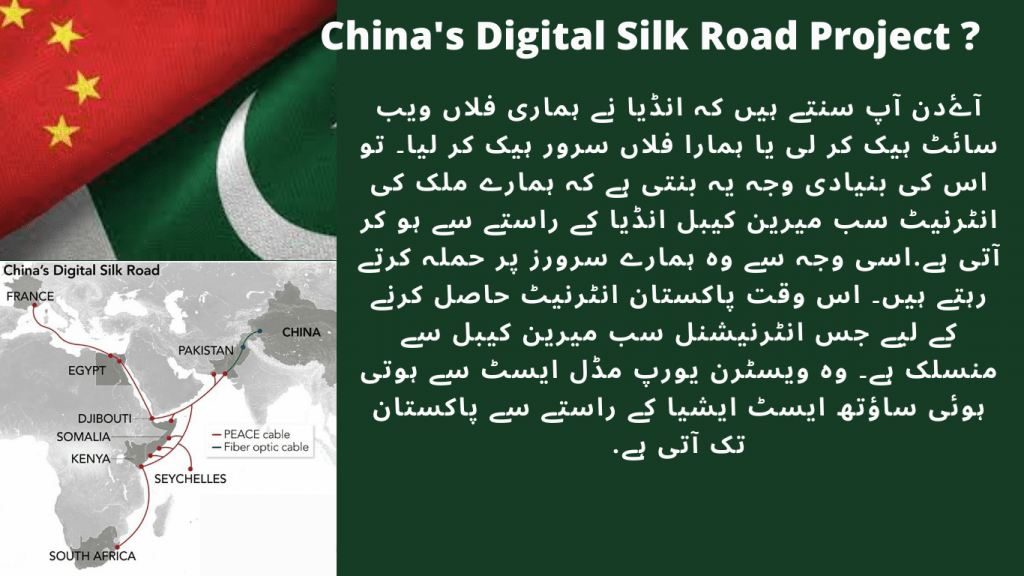 China and Pakistan will control India's traffic. One of the major benefits of fiber optics in this regard is that our police and intelligence agencies use security tools. The fear remains. This means that information can be leaked at any time. So after fiber optical it will be completely relieved from this situation Pakistan will be completely secure.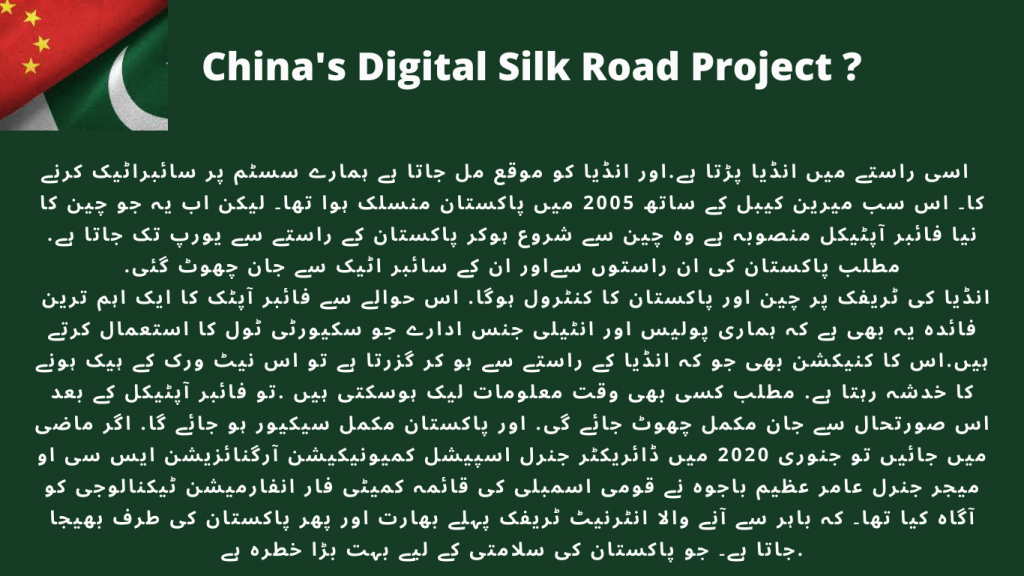 If we go back in time, in January 2020, Director General Special Communication Organization SCO Major General Amir Azeem Bajwa informed the Standing Committee on Information Technology of the National Assembly. That incoming internet traffic is sent first to India and then to Pakistan. Which is a huge threat to Pakistan's security. However, by taking the path of China, Pakistan can reduce the threat to India in the world of internet.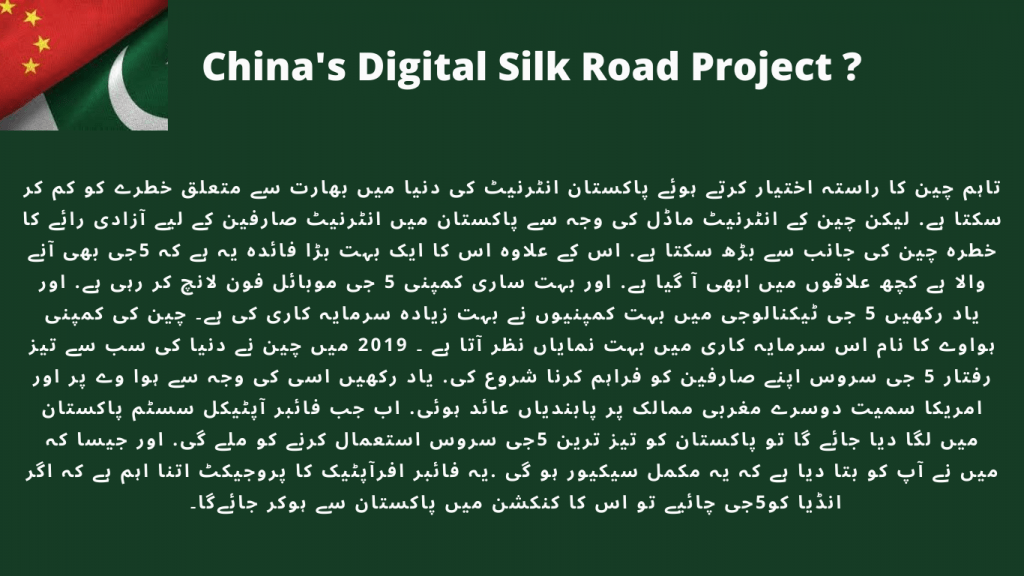 A big advantage of this is that 5G is also coming in some areas of Pakistan just now. And many companies are launching 5G mobile phones. And remember, many companies have invested heavily in 5G technology. The name of the Chinese company Huawei is very prominent in this investment. In 2019, China began offering the world's fastest 5G service to its customers. Remember that this is why sanctions were imposed on Huawei and other Western countries, including the United States. Now when the fiber optical system is installed in Pakistan. Pakistan will get to use the fastest 5G service. It will be completely secure. This fiber optic project is so important that if India wants 5G, it will be connected to Pakistan.
Benefits China's Digital Silk Road Project
The benefits of fiber optical cable are many. This digitization can bring additional benefits to power supply, transportation and intelligent building projects. Open Internet of Things operating systems will become an integral part of the sub-digital Silk Road, meaning this new networking fiber optical project will accomplish everything. The new scenario of the world shows that China is engaged in establishing its relations with the developing countries of Asia and Africa. Through the use of modern technology.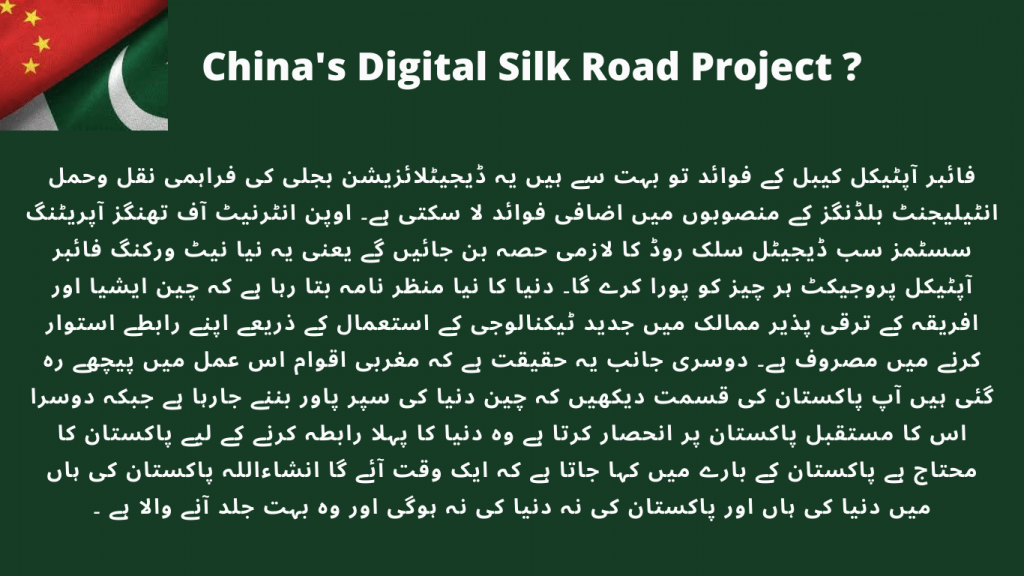 On the other hand, the fact is that the western nations have lagged behind in this process. Look at the fate of Pakistan that China is going to be the world's super power while its future depends on Pakistan. It needs Pakistan to be the first to contact the world. It is said about Pakistan that there will come a time of Pakistan coming very soon.
Others Topic