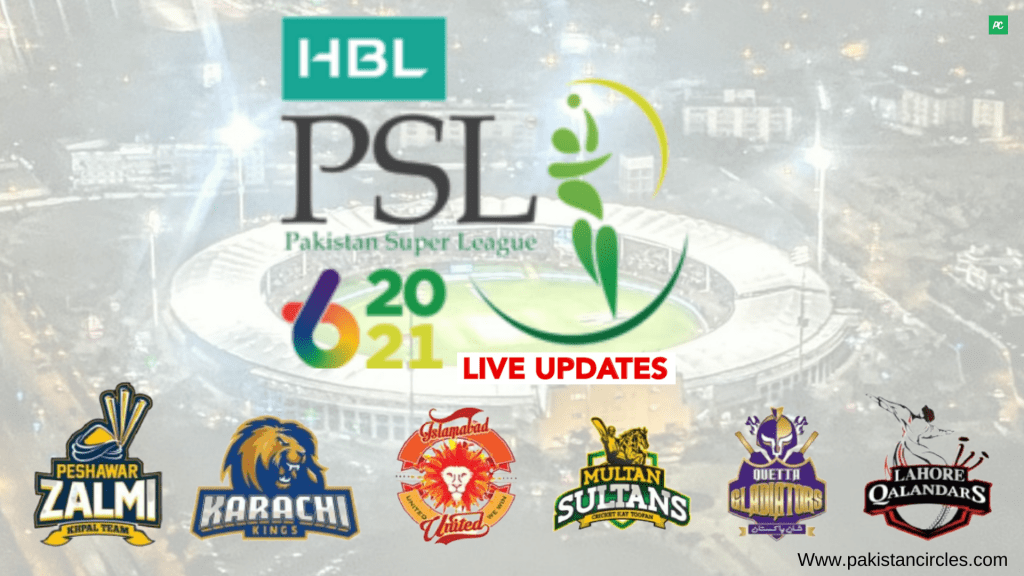 After success of last 5 seasons now PSL6 2021 is live now. Six teams are in this T-20 Cricket league. Top international and national cricket players are participating in PSL2021. Audience can get updates through our page. All live matches updates will be here. All matches will be played in Karachi and Lahore. Six teams in this T-20 Cricket league. Now you can see Live Score PSL 2021.
PSL Postponed
The remainder of the 2021 Pakistan Super League has been postponed, following news on Thursday morning that three more players had tested positive for Covid-19. The decision was taken after an emergency meeting between the PCB and the franchises. The three new cases on Thursday brought the tally of total positives in the tournament bubble to seven, of which six were players.
The PCB said that the decision to postpone was taken "following a meeting with the team owners and considering the health and well-being of all participants". The board's immediate next step is to focus on the "safe and secure passage of all participants, and arrange repeat PCR tests, vaccines and isolation facilities to the six participating sides". Fourteen out of the scheduled 34 matches in the tournament have been completed.
LIVE PSL SCORE
Matches Postponed
PSL 6 RESULTS
Multan Sultans v Quetta Gladiators, 14th Match
Gladiators won by 22 runs
Quetta Gladiators Innings 176/7(20)

BATSMEN
R
B
4s
6s
SR
Usman Khan
lbw b Imran Tahir
81
50
10
3
162.00
Saim Ayub
c Khushdil Shah b Imran Tahir
23
18
2
1
127.77
Faf du Plessis
b Sohail Khan
17
17
1
0
100.00
Azam Khan
lbw b Shahnawaz Dhani
17
10
2
1
170.00
Sarfaraz Ahmed
b Imran Khan
3
4
0
0
75.00
Ben Cutting
lbw b Shahnawaz Dhani
10
8
1
0
125.00
Mohammad Nawaz
c Mohammad Rizwan b Shahnawaz Dhani
20
10
4
0
200.00
Qais Ahmad
not out
2
3
0
0
66.66
Extras
(w 3)
3
TOTAL
(20)
176/7
Fall of Wickets :1-69 (Saim Ayub, 7.6 ov), 2-122 (Usman Khan, 13.6 ov), 3-122 (Faf du Plessis, 14.1 ov), 4-131 (Sarfaraz Ahmed, 15.3 ov), 5-154 (Azam Khan, 17.4 ov), 6-155 (Ben Cutting, 17.6 ov), 7-176 (Mohammad Nawaz, 19.6 ov)
BOWLING
O
M
R
W
ECON
0s
4s
6s
Extras
Sohail Khan
4
0
33
1
8.25
9
5
0
0
Imran Khan
3
0
22
1
7.33
7
2
1
0
Shahnawaz Dhani
4
0
44
3
11.00
7
7
1
0
Carlos Brathwaite
4
0
43
0
10.75
8
5
2
2
Khushdil Shah
1
0
5
0
5.00
2
0
0
0
Imran Tahir
4
0
29
2
7.25
6
1
1
1
Multan Sultans Innings 154/10(19.4)

BATSMEN
R
B
4s
6s
SR
Mohammad Rizwan
c Mohammad Hasnain b Zahid Mahmood
66
50
7
2
132.00
James Vince
c Sarfaraz Ahmed b Qais Ahmad
24
21
4
0
114.28
Shan Masood
lbw b Qais Ahmad
1
4
0
0
25.00
Rilee Rossouw
c Usman Khan b Qais Ahmad
3
8
0
0
37.50
Sohaib Maqsood
c Cutting b Mohammad Nawaz
2
4
0
0
50.00
Khushdil Shah
c Saim Ayub b Mohammad Hasnain
19
12
3
0
158.33
Carlos Brathwaite
c Cutting b Mohammad Hasnain
4
3
1
0
133.33
Sohail Khan
c du Plessis b Zahid Mahmood
8
5
0
1
160.00
Imran Tahir
run out (Zahid Mahmood/Sarfaraz Ahmed)
14
8
1
1
175.00
Imran Khan
not out
0
2
0
0
0.00
Shahnawaz Dhani
c du Plessis b Steyn
0
1
0
0
0.00
Extras
(b 1, lb 2, w 10)
13
TOTAL
(19.4)
154/10
Fall of Wickets :1-63 (James Vince, 7.6 ov), 2-65 (Shan Masood, 9.1 ov), 3-86 (Rilee Rossouw, 11.5 ov), 4-90 (Sohaib Maqsood, 12.5 ov), 5-127 (Khushdil Shah, 16.2 ov), 6-131 (Carlos Brathwaite, 16.5 ov), 7-139 (Mohammad Rizwan, 17.4 ov), 8-139 (Sohail Khan, 17.5 ov), 9-154 (Imran Tahir, 19.3 ov), 10-154 (Shahnawaz Dhani, 19.4 ov)
BOWLING
O
M
R
W
ECON
0s
4s
6s
Extras
Mohammad Hasnain
4
0
34
2
8.50
13
5
1
2
Dale Steyn
3.4
0
34
1
9.27
7
4
0
2
Zahid Mahmood
4
0
39
2
9.75
9
4
2
0
Mohammad Nawaz
4
0
23
1
5.75
12
1
1
1
Qais Ahmad
4
0
21
3
5.25
11
2
0
1
Karachi Kings v Peshawar Zalmi, 13th Match
Kings won by 6 wickets
Peshawar Zalmi Innings 188/5(20)

BATSMEN
R
B
4s
6s
SR
Kamran Akmal
c Mohammad Ilyas b Abbas Afridi
21
17
4
0
123.52
Tom Kohler-Cadmore
c Sharjeel Khan b Abbas Afridi
10
11
0
1
90.90
Shoaib Malik
lbw b Mohammad Ilyas
1
2
0
0
50.00
Haider Ali
c Abbas Afridi b Christian
9
12
1
0
75.00
Ravi Bopara
not out
58
40
6
1
145.00
Sherfane Rutherford
c Clarke b Mohammad Ilyas
46
32
3
3
143.75
Amad Butt
not out
27
7
3
2
385.71
Extras
(lb 1, nb 1, w 14)
16
TOTAL
(20)
188/5
Fall of Wickets :1-30 (Kamran Akmal, 4.1 ov), 2-33 (Tom Kohler-Cadmore, 4.5 ov), 3-34 (Shoaib Malik, 5.1 ov), 4-69 (Haider Ali, 9.4 ov), 5-151 (Sherfane Rutherford, 18.4 ov)
BOWLING
O
M
R
W
ECON
0s
4s
6s
Extras
Mohammad Amir
4
0
29
0
7.25
12
4
0
3
Mohammad Ilyas
4
0
38
2
9.50
9
4
2
0
Abbas Afridi
4
0
27
2
6.75
9
1
1
4
Imad Wasim
1
0
16
0
16.00
1
2
1
0
Arshad Iqbal
2
0
20
0
10.00
3
1
1
1
Daniel Christian
3
0
45
1
15.00
5
5
2
2
Mohammad Nabi
2
0
12
0
6.00
3
0
0
1
Karachi Kings Innings 191/4(19.3)

BATSMEN
R
B
4s
6s
SR
Sharjeel Khan
c Mohammad Irfan b Mohammad Imran
0
1
0
0
0.00
Babar Azam
not out
77
47
6
3
163.82
Joe Clarke
c Kamran Akmal b Mohammad Irfan
17
14
4
0
121.42
Colin Ingram
c Haider Ali b Mahmood
3
11
0
0
27.27
Mohammad Nabi
c Kohler-Cadmore b Mahmood
67
35
8
4
191.42
Daniel Christian
not out
16
9
2
1
177.77
Extras
(lb 2, w 9)
11
TOTAL
(19.3)
191/4
Fall of Wickets :1-0 (Sharjeel Khan, 0.1 ov), 2-22 (Joe Clarke, 3.4 ov), 3-43 (Colin Ingram, 6.6 ov), 4-161 (Mohammad Nabi, 16.3 ov)
BOWLING
O
M
R
W
ECON
0s
4s
6s
Extras
Mohammad Imran
4
0
25
1
6.25
13
4
0
0
Mohammad Irfan
4
0
26
1
6.50
11
4
0
1
Saqib Mahmood
4
0
41
2
10.25
10
4
2
3
Amad Butt
4
0
56
0
14.00
8
6
3
1
Umaid Asif
3.3
0
41
0
11.71
4
2
3
0
Karachi Kings v Lahore Qalandars, 11th Match
Qalandars won by 6 wickets
Karachi Kings Innings 186/9(20)

BATSMEN
R
B
4s
6s
SR
Sharjeel Khan
c Patel b Wiese
64
39
5
6
164.10
Babar Azam
b Shaheen Shah Afridi
5
5
0
0
100.00
Joe Clarke
run out (Haris Rauf)
4
6
1
0
66.66
Colin Ingram
b Ahmed Daniyal
0
1
0
0
0.00
Mohammad Nabi
c Sohail Akhtar b Haris Rauf
57
35
4
3
162.85
Daniel Christian
run out (Patel/Shaheen Shah Afridi)
27
14
5
0
192.85
Imad Wasim
c Denly b Patel
0
1
0
0
0.00
Waqas Maqsood
b Shaheen Shah Afridi
12
11
2
0
109.09
Mohammad Ilyas
not out
4
5
0
0
80.00
Mohammad Amir
b Shaheen Shah Afridi
0
2
0
0
0.00
Arshad Iqbal
not out
0
1
0
0
0.00
Extras
(b 2, w 11)
13
TOTAL
(20)
186/9
Fall of Wickets :1-20 (Babar Azam, 2.5 ov), 2-37 (Joe Clarke, 4.5 ov), 3-37 (Colin Ingram, 4.6 ov), 4-113 (Sharjeel Khan, 12.1 ov), 5-158 (Mohammad Nabi, 15.5 ov), 6-162 (Imad Wasim, 16.1 ov), 7-176 (Daniel Christian, 17.6 ov), 8-184 (Waqas Maqsood, 19.3 ov), 9-185 (Mohammad Amir, 19.5 ov)
BOWLING
O
M
R
W
ECON
0s
4s
6s
Extras
Shaheen Shah Afridi
4
0
27
3
6.75
14
3
0
2
Mohammad Hafeez
2
0
19
0
9.50
6
1
2
0
Haris Rauf
4
0
32
1
8.00
13
5
1
0
Ahmed Daniyal
4
0
37
1
9.25
8
2
2
3
David Wiese
4
0
42
1
10.50
6
3
2
2
Samit Patel
2
0
27
1
13.50
4
3
2
0
Lahore Qalandars Innings 189/4(19.2)

BATSMEN
R
B
4s
6s
SR
Fakhar Zaman
c Babar Azam b Christian
83
54
8
4
153.70
Sohail Akhtar
run out (Imad Wasim)
0
0
0
0
-
Joe Denly
b Mohammad Amir
0
1
0
0
0.00
Mohammad Hafeez
c Babar Azam b Waqas Maqsood
15
9
1
1
166.66
Ben Dunk
not out
57
43
5
2
132.55
David Wiese
not out
31
9
3
3
344.44
Extras
(lb 1, w 2)
3
TOTAL
(19.2)
189/4
Fall of Wickets :1-0 (Sohail Akhtar, 0.4 ov), 2-0 (Joe Denly, 0.5 ov), 3-33 (Mohammad Hafeez, 4.2 ov), 4-152 (Fakhar Zaman, 17.2 ov)
BOWLING
O
M
R
W
ECON
0s
4s
6s
Extras
Mohammad Amir
4
1
34
1
8.50
11
5
1
0
Mohammad Ilyas
2
0
25
0
12.50
4
2
2
1
Waqas Maqsood
3
0
34
1
11.33
2
4
1
0
Arshad Iqbal
3
0
25
0
8.33
6
1
2
0
Mohammad Nabi
4
0
31
0
7.75
8
3
1
0
Daniel Christian
3.2
0
39
1
11.70
6
2
3
1
Islamabad United v Peshawar Zalmi, 10th Match
Zalmi won by 6 wickets
Islamabad United Innings 118/10(17.1)

BATSMEN
R
B
4s
6s
SR
Paul Stirling
b Wahab Riaz
1
2
0
0
50.00
Alex Hales
c sub (Mohammad Imran(1)) b Mahmood
41
27
5
1
151.85
Phil Salt
b Mahmood
9
11
1
0
81.81
Faheem Ashraf
c Kohler-Cadmore b Umaid Asif
2
4
0
0
50.00
Shadab Khan
run out (Imam-ul-Haq/Kamran Akmal)
6
5
1
0
120.00
Hussain Talat
lbw b Mujeeb Ur Rahman
22
15
2
0
146.66
Iftikhar Ahmed
c Kohler-Cadmore b Wahab Riaz
7
12
0
0
58.33
Asif Ali
c Shoaib Malik b Wahab Riaz
19
12
0
2
158.33
Hasan Ali
lbw b Wahab Riaz
7
10
0
0
70.00
Mohammad Wasim
c Kamran Akmal b Mahmood
1
2
0
0
50.00
Fawad Ahmed
not out
0
3
0
0
0.00
Extras
(lb 2, w 1)
3
TOTAL
(17.1)
118/10
Fall of Wickets :1-2 (Paul Stirling, 0.4 ov), 2-38 (Phil Salt, 4.3 ov), 3-41 (Faheem Ashraf, 5.2 ov), 4-55 (Shadab Khan, 6.6 ov), 5-82 (Alex Hales, 10.2 ov), 6-86 (Hussain Talat, 11.1 ov), 7-109 (Iftikhar Ahmed, 14.1 ov), 8-111 (Asif Ali, 14.6 ov), 9-118 (Hasan Ali, 16.3 ov), 10-118 (Mohammad Wasim, 17.1 ov)
BOWLING
O
M
R
W
ECON
0s
4s
6s
Extras
Wahab Riaz
4
0
17
4
4.25
14
2
0
0
Mujeeb Ur Rahman
4
0
28
1
7.00
11
2
1
0
Mohammad Imran
3
0
28
0
9.33
3
2
1
1
Saqib Mahmood
2.1
0
12
3
5.53
5
1
0
0
Umaid Asif
4
0
31
1
7.75
8
2
1
0
Peshawar Zalmi Innings 122/4(17.1)

BATSMEN
R
B
4s
6s
SR
Imam-ul-Haq
c Faheem Ashraf b Hasan Ali
0
3
0
0
0.00
Kamran Akmal
lbw b Mohammad Wasim
3
4
0
0
75.00
Tom Kohler-Cadmore
c Salt b Fawad Ahmed
46
46
4
2
100.00
Shoaib Malik
not out
29
30
1
1
96.66
Haider Ali
c Salt b Hasan Ali
36
18
3
3
200.00
Sherfane Rutherford
not out
6
2
0
0
300.00
Extras
(w 2)
2
TOTAL
(17.1)
122/4
Fall of Wickets :1-0 (Imam-ul-Haq, 0.3 ov), 2-6 (Kamran Akmal, 1.6 ov), 3-69 (Tom Kohler-Cadmore, 12.4 ov), 4-116 (Haider Ali, 16.5 ov)
BOWLING
O
M
R
W
ECON
0s
4s
6s
Extras
Hasan Ali
4
0
14
2
3.50
17
2
0
1
Mohammad Wasim
3
0
26
1
8.66
7
1
2
1
Faheem Ashraf
2
0
14
0
7.00
4
2
0
0
Fawad Ahmed
4
0
40
1
10.00
6
2
3
0
Shadab Khan
4
0
23
0
5.75
12
1
1
0
Iftikhar Ahmed
0.1
0
5
0
30.00
0
0
0
0
Karachi Kings v Multan Sultans, 9th Match
Kings won by 7 wickets
Multan Sultans Innings 195/6(20)

BATSMEN
R
B
4s
6s
SR
Mohammad Rizwan
c Mohammad Nabi b Arshad Iqbal
43
32
5
0
134.37
Chris Lynn
c Babar Azam b Imad Wasim
32
14
6
1
228.57
James Vince
c Ingram b Arshad Iqbal
45
29
5
1
155.17
Sohaib Maqsood
not out
34
27
2
1
125.92
Rilee Rossouw
b Christian
7
4
0
1
175.00
Khushdil Shah
b Waqas Maqsood
6
7
0
0
85.71
Shahid Afridi
c Mohammad Nabi b Mohammad Amir
3
5
0
0
60.00
Carlos Brathwaite
not out
3
3
0
0
100.00
Extras
(b 4, lb 9, nb 1, w 8)
22
TOTAL
(20)
195/6
Fall of Wickets :1-53 (Chris Lynn, 4.2 ov), 2-123 (Mohammad Rizwan, 11.2 ov), 3-133 (James Vince, 13.4 ov), 4-148 (Rilee Rossouw, 14.6 ov), 5-173 (Khushdil Shah, 17.1 ov), 6-182 (Shahid Afridi, 18.4 ov)
BOWLING
O
M
R
W
ECON
0s
4s
6s
Extras
Imad Wasim
4
0
22
1
5.50
11
2
0
0
Mohammad Amir
4
1
34
1
8.50
11
2
1
7
Waqas Maqsood
4
0
47
1
11.75
4
8
0
0
Daniel Christian
3
0
28
1
9.33
3
2
1
0
Arshad Iqbal
4
0
36
2
9.00
6
3
1
2
Mohammad Nabi
1
0
15
0
15.00
0
1
1
0
Karachi Kings Innings 198/3(18.5)

BATSMEN
R
B
4s
6s
SR
Sharjeel Khan
c Mohammad Rizwan b Shahnawaz Dhani
27
14
4
1
192.85
Babar Azam
not out
90
60
13
1
150.00
Joe Clarke
c Lynn b Shahnawaz Dhani
54
26
3
4
207.69
Colin Ingram
c Shahnawaz Dhani b Sohail Khan
6
5
1
0
120.00
Mohammad Nabi
not out
13
8
2
0
162.50
Extras
(lb 4, w 4)
8
TOTAL
(18.5)
198/3
Fall of Wickets :1-56 (Sharjeel Khan, 4.5 ov), 2-153 (Joe Clarke, 14.2 ov), 3-162 (Colin Ingram, 15.3 ov)
BOWLING
O
M
R
W
ECON
0s
4s
6s
Extras
Sohail Khan
3.5
0
48
1
12.52
6
6
2
2
Shahnawaz Dhani
3
0
28
2
9.33
8
6
0
0
Carlos Brathwaite
4
0
32
0
8.00
6
3
0
2
Usman Qadir
3
0
26
0
8.66
5
4
0
0
Shahid Afridi
3
0
32
0
10.66
4
2
2
0
Khushdil Shah
2
0
28
0
14.00
1
2
2
0
Peshawar Zalmi v Quetta Gladiators, 8th Match
Zalmi won by 3 wickets
Quetta Gladiators Innings 198/7(20)

BATSMEN
R
B
4s
6s
SR
Saim Ayub
run out (Rutherford)
21
19
4
0
110.52
Cameron Delport
c Imam-ul-Haq b Mohammad Imran
2
5
0
0
40.00
Faf du Plessis
c Mujeeb Ur Rahman b Wahab Riaz
37
26
4
1
142.30
Sarfaraz Ahmed
c Shoaib Malik b Wahab Riaz
81
40
12
1
202.50
Azam Khan
c Kohler-Cadmore b Mahmood
47
26
6
2
180.76
Ben Cutting
b Mahmood
0
1
0
0
0.00
Mohammad Nawaz
c Kohler-Cadmore b Mahmood
2
2
0
0
100.00
Dale Steyn
not out
0
2
0
0
0.00
Zahid Mahmood
not out
0
0
0
0
-
Extras
(b 2, nb 1, w 5)
8
TOTAL
(20)
198/7
Fall of Wickets :1-15 (Cameron Delport, 2.1 ov), 2-48 (Saim Ayub, 6.3 ov), 3-88 (Faf du Plessis, 10.2 ov), 4-193 (Sarfaraz Ahmed, 18.6 ov), 5-193 (Azam Khan, 19.1 ov), 6-193 (Ben Cutting, 19.2 ov), 7-196 (Mohammad Nawaz, 19.5 ov)
BOWLING
O
M
R
W
ECON
0s
4s
6s
Extras
Mujeeb Ur Rahman
4
0
44
0
11.00
4
6
1
1
Mohammad Irfan
4
0
39
0
9.75
9
5
1
1
Mohammad Imran
4
0
25
1
6.25
12
3
0
0
Saqib Mahmood
4
0
34
3
8.50
9
5
0
1
Wahab Riaz
4
0
54
2
13.50
6
7
2
3
Peshawar Zalmi Innings 202/7(19.3)

BATSMEN
R
B
4s
6s
SR
Imam-ul-Haq
b Zahid Mahmood
41
30
4
1
136.66
Kamran Akmal
c Cutting b Usman Shinwari
3
8
0
0
37.50
Tom Kohler-Cadmore
c Delport b Steyn
4
4
1
0
100.00
Haider Ali
c du Plessis b Steyn
50
29
5
2
172.41
Shoaib Malik
lbw b Cutting
34
20
1
3
170.00
Sherfane Rutherford
not out
36
18
1
4
200.00
Wahab Riaz
b Mohammad Hasnain
20
8
1
2
250.00
Saqib Mahmood
run out (Mohammad Nawaz/Mohammad Hasnain)
0
1
0
0
0.00
Mujeeb Ur Rahman
not out
0
0
0
0
-
Extras
(lb 1, nb 1, w 12)
14
TOTAL
(19.3)
202/7
Fall of Wickets :1-13 (Kamran Akmal, 2.4 ov), 2-27 (Tom Kohler-Cadmore, 3.6 ov), 3-79 (Imam-ul-Haq, 9.2 ov), 4-131 (Haider Ali, 14.1 ov), 5-145 (Shoaib Malik, 15.5 ov), 6-193 (Wahab Riaz, 19.1 ov), 7-193 (Saqib Mahmood, 19.2 ov)
BOWLING
O
M
R
W
ECON
0s
4s
6s
Extras
Dale Steyn
4
0
44
2
11.00
7
1
4
3
Mohammad Hasnain
3.3
0
40
1
11.42
10
2
3
3
Usman Shinwari
4
0
49
1
12.25
6
6
2
0
Mohammad Nawaz
2
0
13
0
6.50
2
1
0
0
Zahid Mahmood
4
0
32
1
8.00
6
2
1
2
Ben Cutting
2
0
23
1
11.50
4
1
2
0
Lahore Qalandars v Multan Sultans, 7th Match
Sultans won by 7 wickets
Lahore Qalandars Innings 157/6(20)

BATSMEN
R
B
4s
6s
SR
Fakhar Zaman
c Mohammad Rizwan b Shahnawaz Dhani
9
11
1
0
81.81
Sohail Akhtar
c Usman Qadir b Brathwaite
7
12
1
0
58.33
Joe Denly
c Mohammad Rizwan b Brathwaite
31
29
2
2
106.89
Mohammad Hafeez
run out (Brathwaite/Usman Qadir)
60
35
3
5
171.42
Ben Dunk
c Shahid Afridi b Usman Qadir
1
2
0
0
50.00
Samit Patel
not out
26
20
2
1
130.00
David Wiese
c Brathwaite b Shahnawaz Dhani
13
8
1
1
162.50
Shaheen Shah Afridi
not out
3
3
0
0
100.00
Extras
(b 1, lb 1, w 5)
7
TOTAL
(20)
157/6
Fall of Wickets :1-17 (Sohail Akhtar, 3.2 ov), 2-17 (Fakhar Zaman, 4.3 ov), 3-106 (Joe Denly, 13.4 ov), 4-108 (Ben Dunk, 14.1 ov), 5-122 (Mohammad Hafeez, 16.2 ov), 6-141 (David Wiese, 18.3 ov)
BOWLING
O
M
R
W
ECON
0s
4s
6s
Extras
Sohail Khan
4
0
24
0
6.00
9
2
0
2
Shahnawaz Dhani
4
0
39
2
9.75
10
3
3
0
Carlos Brathwaite
4
1
20
2
5.00
14
3
0
1
Shahid Afridi
4
0
41
0
10.25
7
1
4
1
Usman Qadir
4
0
31
1
7.75
7
1
2
1
Multan Sultans Innings 159/3(16.2)

BATSMEN
R
B
4s
6s
SR
Mohammad Rizwan
c Haris Rauf b Shaheen Shah Afridi
76
49
12
0
155.10
Chris Lynn
b Shaheen Shah Afridi
0
2
0
0
0.00
James Vince
c Haris Rauf b Patel
5
6
1
0
83.33
Sohaib Maqsood
not out
61
41
7
2
148.78
Rilee Rossouw
not out
1
2
0
0
50.00
Extras
(lb 4, nb 2, w 10)
16
TOTAL
(16.2)
159/3
Fall of Wickets :1-1 (Chris Lynn, 0.3 ov), 2-30 (James Vince, 3.2 ov), 3-140 (Mohammad Rizwan, 14.1 ov)
BOWLING
O
M
R
W
ECON
0s
4s
6s
Extras
Shaheen Shah Afridi
4
0
29
2
7.25
12
5
0
2
Samit Patel
3
0
26
1
8.66
7
2
1
1
Haris Rauf
3.2
0
41
0
12.30
5
6
1
3
Ahmed Daniyal
3
0
24
0
8.00
6
2
0
3
David Wiese
1
0
8
0
8.00
2
1
0
1
Karachi Kings v Islamabad United, 6th Match
United won by 5 wickets
Karachi Kings Innings 196/3(20)

BATSMEN
R
B
4s
6s
SR
Sharjeel Khan
lbw b Hasan Ali
105
59
9
8
177.96
Babar Azam
run out (Hales/Hasan Ali)
62
54
6
1
114.81
Daniel Christian
not out
12
5
2
0
240.00
Mohammad Nabi
c Zafar Gohar b Hussain Talat
7
5
0
1
140.00
Extras
(lb 2, nb 3, w 5)
10
TOTAL
(20)
196/3
Fall of Wickets :1-176 (Babar Azam, 18.1 ov), 2-176 (Sharjeel Khan, 18.2 ov), 3-196 (Mohammad Nabi, 19.6 ov)
BOWLING
O
M
R
W
ECON
0s
4s
6s
Extras
Hasan Ali
4
0
36
1
9.00
11
6
1
0
Faheem Ashraf
4
0
28
0
7.00
9
2
1
1
Mohammad Wasim
4
0
30
0
7.50
7
2
1
1
Shadab Khan
2
0
32
0
16.00
3
1
4
0
Zafar Gohar
2
0
22
0
11.00
4
2
1
2
Lewis Gregory
1
0
11
0
11.00
1
2
0
0
Iftikhar Ahmed
1
0
10
0
10.00
1
0
1
0
Hussain Talat
2
0
25
1
12.50
4
2
1
4
Islamabad United Innings 197/5(19.1)

BATSMEN
R
B
4s
6s
SR
Phil Salt
c Christian b Imad Wasim
0
2
0
0
0.00
Alex Hales
c sub (Qasim Akram) b Waqas Maqsood
46
21
8
1
219.04
Shadab Khan
lbw b Mohammad Amir
0
1
0
0
0.00
Faheem Ashraf
b Arshad Iqbal
25
15
2
2
166.66
Iftikhar Ahmed
not out
49
37
2
3
132.43
Hussain Talat
lbw b Mohammad Nabi
42
31
4
0
135.48
Asif Ali
not out
21
9
1
2
233.33
Extras
(b 1, lb 3, nb 1, w 9)
14
TOTAL
(19.1)
197/5
Fall of Wickets :1-1 (Phil Salt, 0.2 ov), 2-13 (Shadab Khan, 1.5 ov), 3-75 (Alex Hales, 5.3 ov), 4-82 (Faheem Ashraf, 6.3 ov), 5-176 (Hussain Talat, 17.4 ov)
BOWLING
O
M
R
W
ECON
0s
4s
6s
Extras
Imad Wasim
4
0
32
1
8.00
5
3
0
2
Mohammad Amir
4
0
44
1
11.00
11
4
2
4
Aamer Yamin
1
0
29
0
29.00
0
5
1
1
Waqas Maqsood
2.1
0
22
1
10.15
5
1
2
0
Arshad Iqbal
3
0
30
1
10.00
3
3
1
0
Daniel Christian
1
0
10
0
10.00
0
1
0
0
Mohammad Nabi
4
0
26
1
6.50
9
0
2
0
Multan Sultans v Peshawar Zalmi, 5th Match
Zalmi won by 6 wickets
Multan Sultans Innings 193/4(20)

BATSMEN
R
B
4s
6s
SR
Mohammad Rizwan
c Imam-ul-Haq b Mohammad Imran
41
28
3
2
146.42
Chris Lynn
c Haider Ali b Mohammad Irfan
1
4
0
0
25.00
James Vince
c Mohammad Irfan b Mahmood
84
55
9
3
152.72
Sohaib Maqsood
c Kamran Akmal b Mahmood
36
21
4
2
171.42
Rilee Rossouw
not out
14
8
1
1
175.00
Khushdil Shah
not out
6
5
0
0
120.00
Extras
(lb 1, nb 1, w 9)
11
TOTAL
(20)
193/4
Fall of Wickets :1-6 (Chris Lynn, 1.1 ov), 2-88 (Mohammad Rizwan, 10.1 ov), 3-159 (Sohaib Maqsood, 16.5 ov), 4-186 (James Vince, 18.6 ov)
BOWLING
O
M
R
W
ECON
0s
4s
6s
Extras
Mohammad Imran
4
0
24
1
6.00
9
2
0
0
Mohammad Irfan
4
0
41
1
10.25
6
4
2
0
Saqib Mahmood
4
0
36
2
9.00
7
2
2
0
Mujeeb Ur Rahman
4
0
40
0
10.00
7
4
1
2
Wahab Riaz
4
0
51
0
12.75
7
5
3
3
Peshawar Zalmi Innings 197/4(19)

BATSMEN
R
B
4s
6s
SR
Imam-ul-Haq
run out (Brathwaite/Mohammad Rizwan)
48
39
5
0
123.07
Kamran Akmal
lbw b Usman Qadir
37
24
5
2
154.16
Tom Kohler-Cadmore
c Sohail Tanvir b Shahnawaz Dhani
53
32
6
1
165.62
Sherfane Rutherford
c Brathwaite b Shahnawaz Dhani
15
6
2
1
250.00
Shoaib Malik
not out
11
5
0
1
220.00
Haider Ali
not out
25
8
2
2
312.50
Extras
(b 4, w 4)
8
TOTAL
(19)
197/4
Fall of Wickets :1-57 (Kamran Akmal, 6.3 ov), 2-134 (Imam-ul-Haq, 15.1 ov), 3-153 (Sherfane Rutherford, 16.3 ov), 4-160 (Tom Kohler-Cadmore, 16.6 ov)
BOWLING
O
M
R
W
ECON
0s
4s
6s
Extras
Sohail Tanvir
3
0
40
0
13.33
5
5
2
2
Shahnawaz Dhani
4
0
44
2
11.00
9
2
4
2
Carlos Brathwaite
4
0
42
0
10.50
3
6
0
0
Shahid Afridi
4
0
38
0
9.50
5
4
1
0
Usman Qadir
4
0
29
1
7.25
7
3
0
0
Lahore Qalandars v Quetta Gladiators, 4th Match
Qalandars won by 9 wickets
Quetta Gladiators Innings 178/6(20)

BATSMEN
R
B
4s
6s
SR
Tom Banton
c Ahmed Daniyal b Haris Rauf
4
8
0
0
50.00
Saim Ayub
c Sohail Akhtar b Shaheen Shah Afridi
3
5
0
0
60.00
Chris Gayle
b Rashid Khan
68
40
5
5
170.00
Sarfaraz Ahmed
c Dunk b Haris Rauf
40
33
5
0
121.21
Azam Khan
c Shaheen Shah Afridi b Ahmed Daniyal
13
9
1
0
144.44
Mohammad Nawaz
not out
33
20
1
3
165.00
Ben Cutting
b Haris Rauf
5
6
0
0
83.33
Anwar Ali
not out
1
1
0
0
100.00
Extras
(lb 5, nb 2, w 4)
11
TOTAL
(20)
178/6
Fall of Wickets :1-7 (Tom Banton, 1.5 ov), 2-12 (Saim Ayub, 2.3 ov), 3-113 (Sarfaraz Ahmed, 13.5 ov), 4-118 (Chris Gayle, 14.3 ov), 5-142 (Azam Khan, 17.1 ov), 6-162 (Ben Cutting, 19.2 ov)
BOWLING
O
M
R
W
ECON
0s
4s
6s
Extras
Shaheen Shah Afridi
4
0
43
1
10.75
8
4
2
1
Haris Rauf
4
0
38
3
9.50
8
2
2
3
Mohammad Hafeez
2
0
11
0
5.50
5
1
0
0
Ahmed Daniyal
4
0
29
1
7.25
10
1
2
0
Rashid Khan
4
0
30
1
7.50
10
3
1
1
David Wiese
2
0
22
0
11.00
0
1
1
1
Lahore Qalandars Innings 179/1(18.2)

BATSMEN
R
B
4s
6s
SR
Fakhar Zaman
not out
82
52
8
2
157.69
Sohail Akhtar
b Zahid Mahmood
21
26
3
0
80.76
Mohammad Hafeez
not out
73
33
5
6
221.21
Extras
(lb 1, nb 1, w 1)
3
TOTAL
(18.2)
179/1
Fall of Wickets :1-64 (Sohail Akhtar, 8.4 ov)
BOWLING
O
M
R
W
ECON
0s
4s
6s
Extras
Mohammad Nawaz
2
0
8
0
4.00
8
1
0
0
Usman Shinwari
4
0
47
0
11.75
7
5
2
1
Mohammad Hasnain
3.2
0
31
0
9.30
6
5
0
1
Anwar Ali
3
0
33
0
11.00
2
2
2
0
Zahid Mahmood
3
0
28
1
9.33
6
2
2
0
Ben Cutting
3
0
31
0
10.33
2
1
2
0
Islamabad United v Multan Sultans, 3rd Match
United won by 3 wickets
Multan Sultans Innings 150/8(20)

BATSMEN
R
B
4s
6s
SR
Mohammad Rizwan
b Mohammad Wasim
71
53
8
2
133.96
Chris Lynn
c Salt b Faheem Ashraf
1
5
0
0
20.00
James Vince
c Faheem Ashraf b Gregory
16
17
1
1
94.11
Rilee Rossouw
c Mohammad Wasim b Shadab Khan
25
14
2
2
178.57
Sohaib Maqsood
c Iftikhar Ahmed b Mohammad Wasim
2
4
0
0
50.00
Khushdil Shah
c Hales b Gregory
7
8
0
0
87.50
Carlos Brathwaite
not out
22
14
2
1
157.14
Shahid Afridi
c Shadab Khan b Mohammad Wasim
0
1
0
0
0.00
Sohail Tanvir
c & b Hasan Ali
4
4
0
0
100.00
Extras
(lb 1, w 1)
2
TOTAL
(20)
150/8
Fall of Wickets :1-4 (Chris Lynn, 1.5 ov), 2-52 (James Vince, 7.1 ov), 3-87 (Rilee Rossouw, 10.4 ov), 4-94 (Sohaib Maqsood, 11.4 ov), 5-108 (Khushdil Shah, 13.4 ov), 6-140 (Mohammad Rizwan, 18.4 ov), 7-140 (Shahid Afridi, 18.5 ov), 8-150 (Sohail Tanvir, 19.6 ov)
BOWLING
O
M
R
W
ECON
0s
4s
6s
Extras
Hasan Ali
4
0
16
1
4.00
12
1
0
0
Faheem Ashraf
3
0
27
1
9.00
8
2
2
1
Mohammad Wasim
4
0
29
3
7.25
9
4
0
0
Lewis Gregory
4
0
31
2
7.75
8
3
1
0
Zafar Gohar
1
0
13
0
13.00
1
1
1
0
Shadab Khan
4
0
33
1
8.25
11
2
2
0
Islamabad United Innings 151/7(19)

BATSMEN
R
B
4s
6s
SR
Phil Salt
c Vince b Mohammad Umar
13
12
2
0
108.33
Alex Hales
b Shahid Afridi
29
20
2
2
145.00
Shadab Khan
c Rossouw b Brathwaite
5
6
1
0
83.33
Hussain Talat
c sub (Shan Masood) b Khushdil Shah
10
16
0
1
62.50
Asif Ali
c Vince b Shahid Afridi
9
9
2
0
100.00
Iftikhar Ahmed
run out (Shahid Afridi)
1
4
0
0
25.00
Lewis Gregory
not out
49
31
6
1
158.06
Faheem Ashraf
c Shahid Afridi b Brathwaite
22
12
2
1
183.33
Zafar Gohar
not out
3
4
0
0
75.00
Extras
(lb 2, w 8)
10
TOTAL
(19)
151/7
Fall of Wickets :1-30 (Phil Salt, 3.4 ov), 2-43 (Shadab Khan, 5.2 ov), 3-55 (Alex Hales, 6.6 ov), 4-73 (Asif Ali, 10.1 ov), 5-74 (Iftikhar Ahmed, 10.6 ov), 6-74 (Hussain Talat, 11.1 ov), 7-117 (Faheem Ashraf, 15.6 ov)
BOWLING
O
M
R
W
ECON
0s
4s
6s
Extras
Sohail Tanvir
4
0
38
0
9.50
8
5
1
1
Sohaibullah
3
0
26
0
8.66
5
4
0
1
Mohammad Umar
3
0
34
1
11.33
5
2
3
0
Carlos Brathwaite
4
0
23
2
5.75
12
3
0
1
Shahid Afridi
4
0
24
2
6.00
13
1
1
1
Khushdil Shah
1
0
4
1
4.00
2
0
0
0
Lahore Qalandars v Peshawar Zalmi, 2nd Match
Qalandars won by 4 wickets
Peshawar Zalmi Innings 140/6(20)

BATSMEN
R
B
4s
6s
SR
Imam-ul-Haq
c Dunk b Shaheen Shah Afridi
0
1
0
0
0.00
Shoaib Malik
c Dunk b Wiese
26
24
4
0
108.33
Ravi Bopara
c Rashid Khan b Shaheen Shah Afridi
50
44
6
0
113.63
Sherfane Rutherford
c Agha Salman b Shaheen Shah Afridi
26
27
0
2
96.29
Amad Butt
not out
23
11
1
2
209.09
Wahab Riaz
not out
1
2
0
0
50.00
Extras
(b 4, lb 2, w 3)
9
TOTAL
(20)
140/6
Fall of Wickets :1-0 (Imam-ul-Haq, 0.1 ov), 2-18 (Kamran Akmal, 3.3 ov), 3-19 (Haider Ali, 3.5 ov), 4-46 (Shoaib Malik, 7.4 ov), 5-110 (Sherfane Rutherford, 16.6 ov), 6-124 (Ravi Bopara, 18.6 ov)
BOWLING
O
M
R
W
ECON
0s
4s
6s
Extras
Shaheen Shah Afridi
4
1
14
3
3.50
16
1
0
2
Salman Zaib
1
0
9
0
9.00
3
2
0
0
Ahmed Daniyal
4
0
41
0
10.25
8
2
3
1
Rashid Khan
4
0
14
0
3.50
10
0
0
0
David Wiese
4
0
30
1
7.50
7
2
1
0
Lahore Qalandars Innings 143/6(18.3)

BATSMEN
R
B
4s
6s
SR
Fakhar Zaman
c Shoaib Malik b Wahab Riaz
15
15
1
1
100.00
Sohail Akhtar
c Shoaib Malik b Mujeeb Ur Rahman
14
14
2
0
100.00
Agha Salman
b Amad Butt
21
16
4
0
131.25
Mohammad Hafeez
not out
33
26
5
0
126.92
Ben Dunk
b Wahab Riaz
22
14
2
1
157.14
Samit Patel
b Mahmood
8
11
0
0
72.72
David Wiese
lbw b Mahmood
0
1
0
0
0.00
Rashid Khan
not out
27
15
3
1
180.00
Extras
(lb 2, nb 1)
3
TOTAL
(18.3)
143/6
Fall of Wickets :1-29 (Sohail Akhtar, 4.2 ov), 2-38 (Fakhar Zaman, 5.6 ov), 3-53 (Agha Salman, 7.6 ov), 4-89 (Ben Dunk, 11.4 ov), 5-109 (Samit Patel, 15.3 ov), 6-109 (David Wiese, 15.4 ov)
BOWLING
O
M
R
W
ECON
0s
4s
6s
Extras
Wahab Riaz
4
0
30
2
7.50
11
4
0
1
Saqib Mahmood
4
0
22
2
5.50
12
1
1
0
Mohammad Imran
4
0
32
0
8.00
8
5
0
0
Mujeeb Ur Rahman
4
0
25
1
6.25
9
3
0
0
Amad Butt
2.3
0
32
1
12.80
5
4
2
0
Karachi Kings v Quetta Gladiators, 1st Match
Kings won by 7 wickets
Quetta Gladiators Innings 121/10(18.2)

BATSMEN
R
B
4s
6s
SR
Tom Banton
c Clarke b Imad Wasim
5
3
1
0
166.66
Sarfaraz Ahmed
c Clarke b Aamer Yamin
7
8
1
0
87.50
Chris Gayle
c Mohammad Amir b Christian
39
24
4
2
162.50
Saim Ayub
c Aamer Yamin b Waqas Maqsood
8
14
1
0
57.14
Azam Khan
c Christian b Arshad Iqbal
17
14
1
1
121.42
Mohammad Nawaz
run out (Waqas Maqsood/Christian)
3
8
0
0
37.50
Ben Cutting
b Arshad Iqbal
11
13
2
0
84.61
Qais Ahmad
c Clarke b Waqas Maqsood
16
13
1
1
123.07
Usman Shinwari
c Imad Wasim b Mohammad Amir
0
4
0
0
0.00
Mohammad Hasnain
c Clarke b Arshad Iqbal
4
5
1
0
80.00
Naseem Shah
not out
1
4
0
0
25.00
Extras
(lb 4, w 6)
10
TOTAL
(18.2)
121/10
Fall of Wickets :1-6 (Tom Banton, 0.4 ov), 2-17 (Sarfaraz Ahmed, 2.4 ov), 3-55 (Saim Ayub, 7.3 ov), 4-68 (Chris Gayle, 8.4 ov), 5-76 (Mohammad Nawaz, 10.5 ov), 6-91 (Azam Khan, 12.5 ov), 7-104 (Ben Cutting, 14.6 ov), 8-106 (Usman Shinwari, 15.5 ov), 9-111 (Mohammad Hasnain, 16.5 ov), 10-121 (Qais Ahmad, 18.2 ov)
BOWLING
O
M
R
W
ECON
0s
4s
6s
Extras
Imad Wasim
4
0
31
1
7.75
11
4
1
1
Mohammad Amir
4
0
14
1
3.50
14
1
0
1
Aamer Yamin
2
0
23
1
11.50
7
2
2
1
Waqas Maqsood
2.2
0
21
2
9.00
6
2
1
1
Arshad Iqbal
4
1
16
3
4.00
16
2
0
0
Daniel Christian
2
0
12
1
6.00
6
1
0
2
Karachi Kings Innings 126/3(13.5)

BATSMEN
R
B
4s
6s
SR
Sharjeel Khan
lbw b Mohammad Hasnain
4
4
1
0
100.00
Babar Azam
c Sarfaraz Ahmed b Mohammad Hasnain
24
20
3
0
120.00
Joe Clarke
c Azam Khan b Usman Shinwari
46
23
6
3
200.00
Colin Ingram
not out
17
22
1
0
77.27
Mohammad Nabi
not out
30
14
2
3
214.28
Extras
(lb 1, w 4)
5
TOTAL
(13.5)
126/3
Fall of Wickets :1-4 (Sharjeel Khan, 0.4 ov), 2-59 (Joe Clarke, 5.2 ov), 3-87 (Babar Azam, 10.1 ov)
BOWLING
O
M
R
W
ECON
0s
4s
6s
Extras
Mohammad Hasnain
4
0
18
2
4.50
15
3
0
0
Naseem Shah
2
0
23
0
11.50
4
3
1
1
Qais Ahmad
3
0
43
0
14.33
3
5
2
1
Usman Shinwari
2
0
10
1
5.00
6
1
0
0
Mohammad Nawaz
2
0
11
0
5.50
4
1
0
0
Ben Cutting
0.5
0
20
0
24.00
0
0
3
0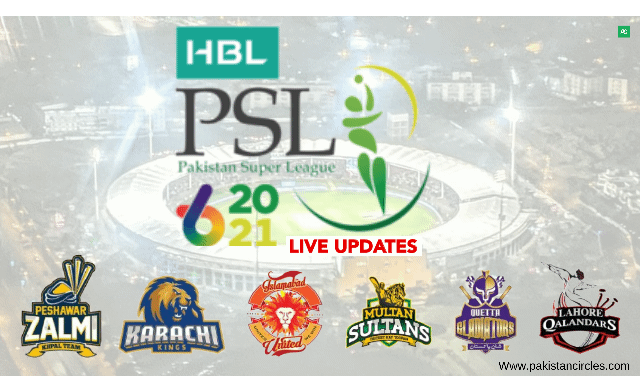 PSL 6 Matches Points Table

| Teams | M | W | L | Points | NRR |
| --- | --- | --- | --- | --- | --- |
| Karachi Kings | 5 | 3 | 2 | 6 | +0.697 |
| Peshawar Zalmi | 5 | 3 | 2 | 6 | +0.273 |
| Islamabad United | 4 | 3 | 1 | 6 | +0.202 |
| Lahore Qalandars | 4 | 3 | 1 | 6 | +0.085 |
| Multan Sultans | 5 | 1 | 4 | 2 | -0.244 |
| Quetta Gladiators | 5 | 1 | 4 | 2 | -0.936 |
PSL 6 Schedule

Date
Match
Time
Feb 20, Sat
Karachi Kings v Quetta Gladiators

National Stadium, Karachi (night)

Kings won by 7 wickets

07:00 PM
Feb 21, Sun
Lahore Qalandars v Peshawar Zalmi

National Stadium, Karachi

Qalandars won by 4 wickets

02:00 PM
Feb 21, Sun
Islamabad United v Multan Sultans

National Stadium, Karachi (night)

United won by 3 wickets

07:00 PM
Feb 22, Mon
Lahore Qalandars v Quetta Gladiators

National Stadium, Karachi (night)

Qalandars won by 9 wickets

07:00 PM
Feb 23, Tue
Multan Sultans v Peshawar Zalmi

National Stadium, Karachi (night)

Zalmi won by 6 wickets

07:00 PM
Feb 24, Wed
Karachi Kings v Islamabad United

National Stadium, Karachi (night)

United won by 5 wickets

07:00 PM
Feb 26, Fri
Lahore Qalandars v Multan Sultans

National Stadium, Karachi (day/night)

Sultans won by 7 wickets

03:00 PM
Feb 26, Fri
Peshawar Zalmi v Quetta Gladiators

National Stadium, Karachi (night)

Zalmi won by 3 wickets

08:00 PM
Feb 27, Sat
Karachi Kings v Multan Sultans

National Stadium, Karachi

Kings won by 7 wickets

02:00 PM
Feb 27, Sat
Islamabad United v Peshawar Zalmi

National Stadium, Karachi (night)

Zalmi won by 6 wickets

07:00 PM
Feb 28, Sun
Karachi Kings v Lahore Qalandars

National Stadium, Karachi (night)

Qalandars won by 6 wickets

07:00 PM
Mar 2, Tue
Islamabad United v Quetta Gladiators

National Stadium, Karachi (night)

Islamabad United won by 6 wkts

07:00 PM
Mar 3, Wed
Karachi Kings v Peshawar Zalmi

National Stadium, Karachi

Kings won by 6 wickets

02:00 PM
Mar 3, Wed
Multan Sultans v Quetta Gladiators

National Stadium, Karachi (night)

Gladiators won by 22 runs

07:00 PM
Mar 4, Thu
Islamabad United v Lahore Qalandars

National Stadium, Karachi (night)

07:00 PM
Mar 5, Fri
Karachi Kings v Multan Sultans

National Stadium, Karachi (night)

07:00 PM
Mar 6, Sat
Islamabad United v Quetta Gladiators

National Stadium, Karachi

02:00 PM
Mar 6, Sat
Lahore Qalandars v Peshawar Zalmi

National Stadium, Karachi (night)

07:00 PM
Mar 7, Sun
Multan Sultans v Quetta Gladiators

National Stadium, Karachi

02:00 PM
Mar 7, Sun
Karachi Kings v Islamabad United

National Stadium, Karachi (night)

07:00 PM
Mar 10, Wed
Karachi Kings v Peshawar Zalmi

Gaddafi Stadium, Lahore (night)

07:00 PM
Mar 11, Thu
Lahore Qalandars v Quetta Gladiators

Gaddafi Stadium, Lahore (night)

07:00 PM
Mar 12, Fri
Multan Sultans v Peshawar Zalmi

Gaddafi Stadium, Lahore (day/night)

03:00 PM
Mar 12, Fri
Lahore Qalandars v Islamabad United

Gaddafi Stadium, Lahore (night)

08:00 PM
Mar 13, Sat
Karachi Kings v Quetta Gladiators

Gaddafi Stadium, Lahore

02:00 PM
Mar 13, Sat
Islamabad United v Multan Sultans

Gaddafi Stadium, Lahore (night)

07:00 PM
Mar 14, Sun
Peshawar Zalmi v Quetta Gladiators

Gaddafi Stadium, Lahore

02:00 PM
Mar 14, Sun
Lahore Qalandars v Karachi Kings

Gaddafi Stadium, Lahore (night)

07:00 PM
Mar 15, Mon
Islamabad United v Peshawar Zalmi

Gaddafi Stadium, Lahore (night)

07:00 PM
Mar 16, Tue
Lahore Qalandars v Multan Sultans

Gaddafi Stadium, Lahore (night)

07:00 PM
Mar 18, Thu
TBC v TBC

Gaddafi Stadium, Lahore (night)

07:00 PM
Mar 19, Fri
TBC v TBC

Gaddafi Stadium, Lahore (night)

08:00 PM
Mar 20, Sat
TBC v TBC

Gaddafi Stadium, Lahore (night)

07:00 PM
Mar 22, Mon
TBC v TBC

Gaddafi Stadium, Lahore (night)

07:00 PM
Other Links