Reading Time:
2
minutes
From January 1, every Pakistani citizen's identity card will be considered a health card. To find out your eligibility, write your National Identity Card number without dash on January 1 and send message to 8500.
Health card.
There are two types of treatment with a health card.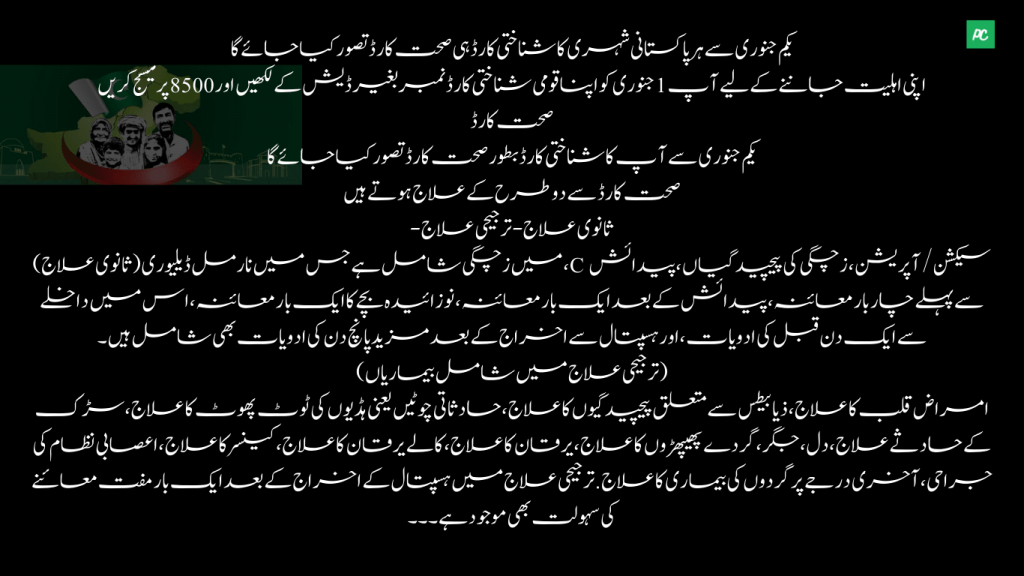 1.Secondary Treatments
(Secondary treatment) includes maternity including
Normal delivery.
C-section / operation.
Maternal complications.
Four prenatal examinations.
One postnatal examination.
One newborn examination,one day before admission. And five more days after discharge from the hospital.
2.Preferred Treatment
(Diseases included in preferential treatment)
Treatment of
Heart Disease.
Treatment of Diabetic Complications.
Accidental Injury Treatment.
Road Accident Treatment.
Treatment of Heart.
Liver.
Kidney and Lung.
Jaundice.
Treatment of Black Jaundice.
Treatment of Cancer.
Neurology Systemic surgery.
Treatment of end-stage kidney disease.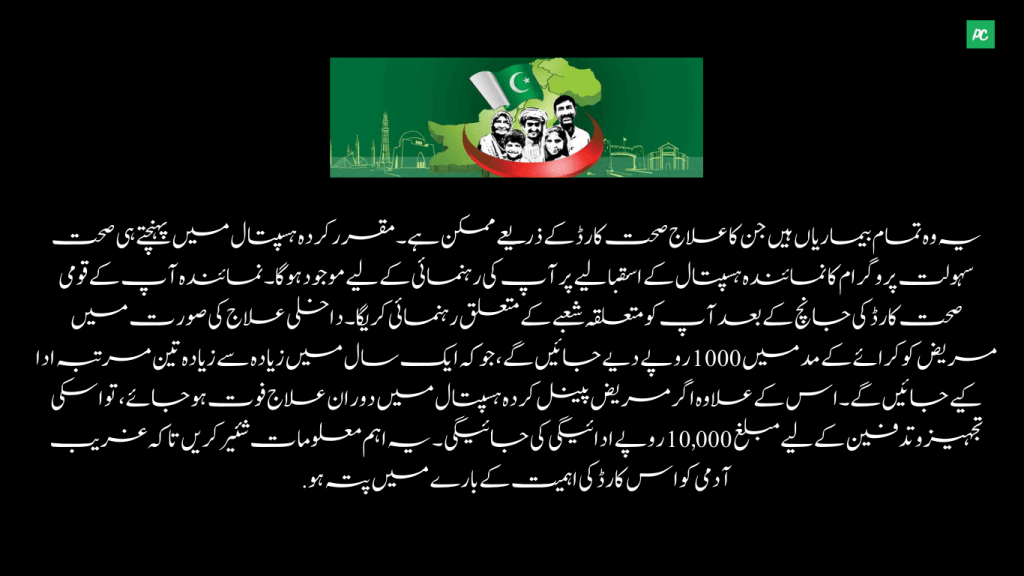 Preferential treatment also includes free check-up facility after discharge from the hospital. These are all illnesses. Can be treated with a health card. Upon arrival at the designated hospital, a representative of the Health Facility Program will be present at the hospital reception to guide you. In case of inpatient treatment, the patient will paid Rs.1000 / – in rent paid a maximum of three times in a year. If he dies, a sum of Rs. 10,000 will be paid for his burial. Share this important information so that the poor man knows the importance of this card.