Reading Time:
3
minutes
Rising Oil Prices in Pakistan and Public Reaction
Rising Oil Prices in Pakistan and Public Reaction? Inflation in Pakistan has been under every government and this is nothing new. But the people of Pakistan did not expect it from the Prime Minister of Pakistan Mr. Imran Khan. Because of the claims of Imran Khan when he used to do in his rallies and They would call inflation as incompetence of the government. Or they would say that if the ruler is a thief then there is inflation.
During Imran Khan's rule, what the people are most worried about is that not a single month has gone by without rising oil and petrol prices. Government spokespersons have repeatedly stated that Rising oil prices in the international market have forced the government to raise oil prices. Adding that Pakistan's oil prices are still lower than in other South Asian countries. But the public rejects this logic. And the government is responsible for that.
Instead of a reduction in petrol and diesel prices recently, there has been a increase. In which people are protesting and demanding a reduction. While according to the British News Agency. The price of Brent crude oil in the international market is 85 dollar per barrel. The price of a barrel has risen to its highest level since October 2018. While the price of US crude oil WTI has also risen from one per cent to 82 per cent per barrel. Demand for crude oil has risen, according to the agency.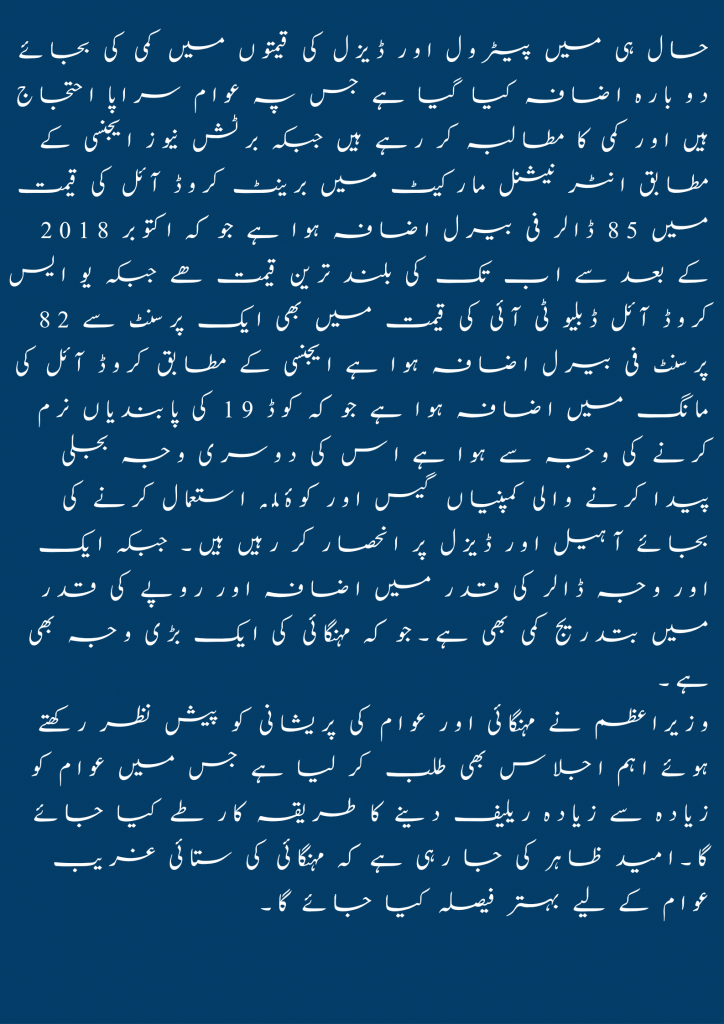 Another reason for the relaxation of Code 19 restrictions is that power generating companies are relying on oil and diesel instead of using gas and coal. Another reason is the rise in the value of the dollar and the gradual depreciation of the rupee.
The Prime Minister has convened an important meeting keeping in view the inflation and the plight of the people. In which a mechanism will be worked out to provide maximum relief to the people.