Reading Time:
2
minutes
Details Of Those Died In Last Night's Snowfall In Murree
Snowfall in Muree created sad Incident while people struck in the car. According to rescue officials Details of those died in last night's snow fall in Muree.
From Islamabad Police ASI Naveed Iqbal, his wife, 4 daughters and 2 sons.
Muhammad Shehzad son of Ismail who is 46 years old, his wife of 35 years and 2 children.
Ashfaq son of Younis, age31, of Gujranwala.
Maroof son Ashraf, age 31, of Lahore.
Muhammad Bilal son of Ghaffar age 21 years.
Muhammad Bilal Hussain son of Syed Ghous aged 24 years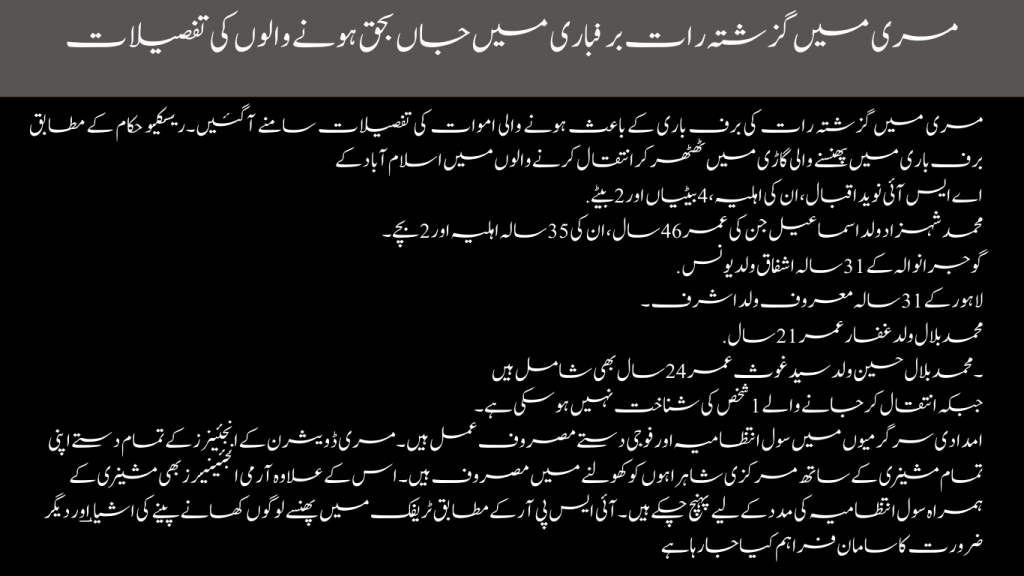 While 1 person who died could not be identified. Civil administration and military forces are engaged in relief operations. All the engineers of Murree Division are busy with all their machinery to open the main highways. In addition, army engineers have also arrived with machinery to assist the civil administration. According to ISPR, food and other necessities are being provided to those trapped in traffic.